Focus Team: Agriculture
As agriculture evolves, the nature of the industry becomes more complex and regulated. At Ruder Ware, we have followed the evolution and acted as business advisors and legal counsel for generations of producers and for businesses providing products and services for the agriculture industry.
Why Ruder Ware for Your Ag Business?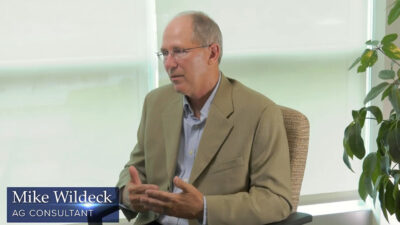 Ag Succession Planning
Our Ag Focus Team pulls together attorneys from all areas of the firm, blending backgrounds to benefit all types of ag enterprises – large and small.  Collaboration amongst the attorneys means a client has access to a host of services tailored to their operation.  We value building one-on-one relationships with producers and other agribusinesses.  We also welcome the opportunity to partner with a client's current trusted advisors such as accountants and lenders.  From our experience, the team approach yields the best results for the client.
Members of the Focus Team serve on leadership roles with a number of ag industry organizations throughout Central and West Central Wisconsin.  Attorneys are frequently sought after to present at statewide and regional seminars and conferences and to contribute to nationally distributed publications focused on the agriculture industry.
Legal Services provided to the industry include:
Farm Succession Planning
Estate Planning
Corporations & Limited Liability Companies
Contracts
Employment Law
Business & Environmental Litigation
Environmental Law
Leases and Easements
Real Estate
Transportation
Tax
Posted on February 24, 2023 by Amy E. Ebeling
About 98 percent of U.S. farms are family-owned, according to the U.S. Department of Agriculture. So most farm owners are not surprised that an important part of farm succession planning is balancing the expectations of and promises to their children. In drafting a farm succession plan, the farm owner will be asked to make the […]
Posted on October 26, 2022 by Jessica A. Merkel
Paying for nursing-home and long-term care can seem daunting when the cost can be $5,000 to $12,000 per month – or more. When a married couple is no longer able or willing to privately pay out of pocket for care and chooses to apply for Medicaid, it's a complex process. The Medicaid agency must analyze […]
Posted on July 20, 2022 by Amy E. Ebeling
Estate planning isn't just for the elderly. Young farmers can also benefit from taking a quick look at their own estate and succession plans. It is not uncommon for the estate and succession planning process to focus on the older generation, as they may be the individuals that have the most assets to plan for, […]
Posted on May 13, 2022 by Amy E. Ebeling
Carbon credits have been a hot topic around the country as a potential opportunity for extra farm revenue. However, like any contract, farmers should carefully consider the terms of a carbon credit sale before signing an agreement. There are several terms that could trip up the unwary signer. What is a "carbon credit?" A carbon […]
Posted on March 17, 2022 by Andrew M. Lorenz
Just as things were returning to normal after this past year, a resurgence of COVID-19 cases put a pause on the much-anticipated full return to pre-pandemic life.  But Wisconsin shows no signs of reverting to the "stay at home" level of lockdown that we faced in late-spring 2020. With warm weather returning, events will likely […]
Posted on March 3, 2022 by Ruder Ware Alumni
All one needs is a simple financial power of attorney … think again. Wendell knew he needed a financial power of attorney document in order to ensure he named someone to manage his finances and take care of his farm if he was ever unable to do so on his own. But Wendell was busy […]
Posted on February 17, 2022 by Nicole L. Stangl
"Protecting the Farm" is a common phrase associated with succession planning but employment considerations are just as important in protecting an agribusiness. Employment considerations include how to protect confidential information and skilled farm employees. At-Will Employment Wisconsin is an "at-will" employment state. That means both the employee and the employer are free to terminate the […]
Posted on May 13, 2021 by Andrew M. Lorenz
In any normal year, the onset of warm weather causes Wisconsin residents to flock to the outdoors.  This year, however, the stream of cars leaving cities should flow stronger than ever, as large sectors of the state's population has been either outright locked down or significantly restricted in their travel since last spring.  Landowners who […]
Posted on February 24, 2021 by Ruder Ware Alumni
Farmers know there's going to come a day when they're no longer around to run their farms – and they know they should have plans in place for when that day comes. But farmers often delay planning because it forces them to think about difficult topics and make difficult decisions. The first step to beginning […]
Posted on May 30, 2020 by Ashley L. Hawley
The SECURE Act, a federal law enacted on December 20, 2019, made significant changes to how retirement assets, including 401(k) plans and other IRA's, are treated both during our lives and for our beneficiaries after death. This article will briefly summarize the aspects of the Act that likely matter most to you. During Your Life […]
More Insights