500 N First Street, Suite 8000
P.O. Box 8050
Wausau, WI 54402-8050
Phone: 715.845.4336
Toll Free: 800.477.8050
Fax: 715.845.2718
Services
Professional Recognition:
"Paralegal of the Year," Paralegal Association of Wisconsin (2015)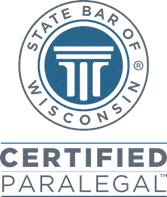 A self-described lifelong learner, Angie never shies from an adventure. After spending a few years in Central Europe earning her Master's Degree and teaching English to adults in Poland and Hungary, Angie determined that a law degree would round out her higher education adventures.
While working as a paralegal in Budapest (Hungary), she developed a passion for research and drafting documents in a law firm setting, which led to her continuing her legal experiences when she returned to the United States in 2009. Her varied background earned Angie the ability to communicate easily with anyone on any topic. As a paralegal at Ruder Ware, she's able to sit with a grieving client and empathize or celebrate with a client who has just survived a drawn-out probate process for a loved one.
Prior to joining the firm, Angie was a civil litigation legal assistant and paralegal, as well as a corporate paralegal where she spent much of her time preparing work product in due diligence matters and multi-national business transactions. At Ruder Ware, Angie specializes in trust and estate administration.  However, because of her exposure to other areas of law, she's able to draw together everything she's learned and use that to benefit our clients. Our attorneys include Angie because she's detail oriented, passionate, and a dogged advocate for the client's needs, wants, and wishes.
At Ruder Ware, Angie:
Assists trustees and personal representatives with valuing and inventorying assets.
Works with personal representatives to navigate the probate court system.
Assists estate planning clients with retitling their assets to conform to their estate plan.
Assists attorneys and clients with developing strategies to report assets to regulatory bodies and beneficiaries, and works with various institutions to gather and compile the necessary information.
Assists in the preparation of real estate transfer documents and federal estate tax returns.
A voracious reader, Angie possesses the rare talent of walking and reading a book at the same time (so far she's avoided serious injury).  She and her husband are dedicated animal enthusiasts who have rescued and rehabilitated many four-legged friends.
Civic Activities
Girl Scouts of the Northwestern Great Lakes Board Development Committee – Member (2019–present)
Merrill City Band – Member (2011–present)
Mosinee Community Band – Member (2009–present)
The Women's Community – On-call Volunteer Advocate (2010–present)
UW-Marathon County Concert Band – Member (2009–present)
United Way of Marathon County – Housing and Homelessness Coalition – Point in Time Count Volunteer (2019–present)
Wausau Community Theatre – Pit Orchestra, Member (2009–present)
Wausau Symphony Orchestra and Symphonic Band – Member (2009–present)
Professional Activities
Paralegal Association of Wisconsin – Board Member, Secretary (2012-2017), National Affairs Representative (2016–present)
National Federation of Paralegal Associations – Secondary Delegate (2016), Primary Delegate (2017–present); Convention Coordinator (2020–present)
Rasmussen College National Paralegal Advisory Board – Member (2016–present)
Northcentral Wisconsin Technical College Paralegal Advisory Board – Member (2021–present)