500 N First Street, Suite 8000
P.O. Box 8050
Wausau, WI 54402-8050
Phone: 715.845.4336
Toll Free: 800.477.8050
Fax: 715.845.2718
Services
Professional Recognition:
Best Lawyers in America® (2020)
Young Athena Award nominee (2009)
Wisconsin Law Journal – Up and Coming Lawyers (2009)
20 Under Forty Honoree (2014), Daily Herald Media
Wisconsin Super Lawyers, Rising Star (2015), Super Lawyer, Estate and Probate (2022)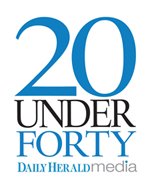 Melissa chairs the Trusts & Estates Practice Group.  As a seasoned estate planner, Melissa counsels individuals and families to create a plan for the transfer and preservation of their assets during their lifetime and at death.
Using sophisticated techniques, Melissa works with a client's trusted advisors to create a flexible life plan that meets their goals, both emotional and financial. Melissa also assists family members and friends of her clients in working through probate and trust administration.
She recently received her Certified Financial Planner certification which she uses to better advise clients on their estate plan, retirement options, and the transfer of wealth. Serving as trustee of family trusts, she carries out client intentions through the firm's Fiduciary Services department.  Melissa also works closely with business owners to create a plan of business succession.  This involves creative tax planning and a deep understanding of family and business dynamics.
Melissa also has extensive experience representing exempt organizations. She provides counsel in matters such as obtaining and retaining tax exempt status and compliance with federal code to avoid tax penalties.
As a direct result of her straightforward approach, Melissa is frequently sought after to present on estate planning topics whether it be forums for fellow attorneys through the State Bar of Wisconsin or for nonprofit organizations.
Recent engagements include:
Creation of a business succession and wealth transfer plan for large manufacturer business owner
Advised individuals on the most tax-efficient methods of charitable giving in their estate plan and lifetime gifting using charitable trusts
Created a plan using limited liability companies for the management and administration of family property for future generations
Structured and drafted sophisticated documents to transfer to future generations with the least tax consequence
Civic Activities
American Heart Association – Heartwalk Coordinator (2004–2007)
YWCA – Director (2004–2008); Men Who Cook Chairperson (2008–2010)
UW Alumni Association – Vice President (2005–2010)
Family Counseling Services – Director (2008–2011)
Aspirus Patient Rights Committee – Member (2009)
Aspirus Bioethics Committee – Member (2010–2013)
Paul and Ruth Schultz Foundation – Secretary (2010–present)
St. Joseph's Hospital Foundation – Board Member (2010–present)
NTC Foundation, Inc. – Board Member (2011–present), Co-Chair – Day for NTC Students
Juvenile Diabetes Research Foundation – Advocate, Volunteer, Speaker (2012–present)
University of Wisconsin Law School – Adjunct Faculty for the Lawyering Skills Course (2012, 2015)
Woodson YMCA – Board Member (2017–present)
Community Foundation of North Central Wisconsin – Board Member (2018–present)
Professional Activities
American College of Trust and Estate Counsel – Fellow (2017–present)
Family Firm Institute – Member
Marathon County Estate Planner Forum – Member
State Bar of Wisconsin – Real Property, Probate & Trust Section Member; Wisconsin Bar Association Drafting Committee
Wausau Region Chamber of Commerce – Board Member (2010–2017); President (2015–2016)