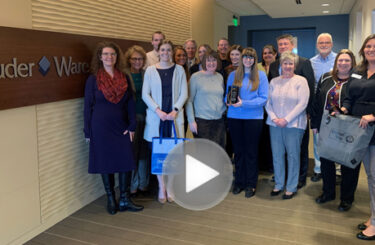 The United Way of Marathon County's staff unanimously selected Ruder Ware as its 2021 Live United recipient out of a total of 180 fundraising campaigns in Marathon County. The annual award recognizes individuals and organizations who are making a huge impact, improving lives through their exceptional efforts giving, advocating, and volunteering for those in our community who need help.  In the words of the United Way of Marathon County:
Congratulations to Ruder Ware our 2021 LIVE UNITED company of the year!
Ruder Ware has played an active role in supporting our community for years. They organize a strong annual campaign and coordinate multiple volunteer opportunities throughout the year. Employees have packed meal kits, assembled calming kits and literacy kits for students, participated in book drives, the Community Baby Shower, Fill a Backpack Fill A Need, and Week of Action!
Employees at Ruder Ware serve on boards and committees at United Way and many area nonprofits including The Neighbors Place, Women's Community, and the Boys and Girls Club.
Even during the pandemic Ruder Ware found a way to help support local projects through volunteerism. They continue to advocate and share their philanthropic spirit in our community though area fundraisers, local sponsorships, and participation in downtown events.
Ruder Ware staff can be found presenting educational sessions on important topics throughout the year.
It's this continued commitment to our community that demonstrated the spirit of what it truly means To LIVE UNITED.
Congratulations Ruder Ware!
Disclaimer
The content in the following blog posts is based upon the state of the law at the time of its original publication. As legal developments change quickly, the content in these blog posts may not remain accurate as laws change over time. None of the information contained in these publications is intended as legal advice or opinion relative to specific matters, facts, situations, or issues. You should not act upon the information in these blog posts without discussing your specific situation with legal counsel.
© 2023 Ruder Ware, L.L.S.C. Accurate reproduction with acknowledgment granted. All rights reserved.