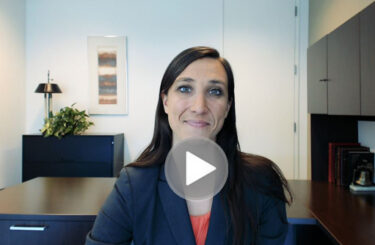 With Mother's Day around the corner, Attorney Ashley Hawley felt the timing would be a perfect opportunity to discuss nominations of guardians for minor children and a will. Her latest post walks viewers through the nomination process, the importance of successor options, and the importance of the temporary guardianship form found on the State Bar of Wisconsin's website.
Video Transcript:
It is getting extremely close to Mother's Day, and also to my daughter's birthday, so I thought that this would be a perfect opportunity to discuss nominations of guardians for minor children and a will. I'm Ashley Hawley, I'm an attorney at Ruder Ware on the Trusts & Estates team.
We've spent previous blog posts talking about why create a will in the first place. I want to distribute certain assets to certain people. I want to pick who gets to be in charge of that process. But, one of the other really important things that a will can do for you, is to nominate guardians for any minor children that you might have at the time that you pass away.
A few points I just want to make here. First, it's a nomination. So, if you list someone – I named my brother, I want him to be guardian of my children if I pass away, and he doesn't want to act, he says, "you know it's not something I want to do." Circumstances change, he passes away before you do, or he has some health concern or, you know, a judge would determine that he is unfit to act. It is just a nomination. So that person can always decline to act, a judge can always say, "no this isn't going to be the guardian."
And that brings me to the second point, which is that it's very important that you list successor options in your documents. I want it to be my brother, but if my brother can't for whatever reason, I want it to be my sister. If not my sister, then I want it to be my best friend. You can list as many options as you want in your estate planning documents. You can also go through and create some rules. I want it to be my brother, but if my brother is not living in Wausau, Wisconsin, I don't think that makes sense. I want it to instead be my sister, but only if my sister is married to my brother-in-law because I really like him and I think he'd be a great dad. You can provide for those kinds of rules. You can also provide for compensation to the guardian. You can say, "I'm going to set aside a certain sum of money in order for my sister to renovate her house because I want to make sure that she has a spare bedroom for my daughter." All of those things you can do within a will.
I just want to also take a moment to bring up the temporary guardianship form on the State Bar website which allows you to nominate a guardian for a time where you're maybe unable to act because you're out of the country (not necessarily that you're deceased), but you know you're unable to answer medical questions or things like that. That form will allow you to nominate someone.
If you have questions about guardianship provisions or crafting the right language to make sure that your wishes are honored in your estate plan, I encourage you to reach out to a member of Ruder Ware's Estate Planning team. Happy Mother's Day and Happy Birthday, Mikaela.
Disclaimer
The content in the following blog posts is based upon the state of the law at the time of its original publication. As legal developments change quickly, the content in these blog posts may not remain accurate as laws change over time. None of the information contained in these publications is intended as legal advice or opinion relative to specific matters, facts, situations, or issues. You should not act upon the information in these blog posts without discussing your specific situation with legal counsel.
© 2023 Ruder Ware, L.L.S.C. Accurate reproduction with acknowledgment granted. All rights reserved.