402 Graham Avenue
P.O. Box 187
Eau Claire, WI 54702-0187
Phone: 715.834.3425
Toll Free: 800.477.8050
Fax: 715.834.9240
Services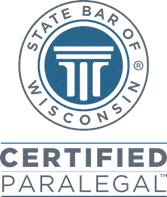 It was a chance conversation on a golf course with a past teacher that prompted Lynda to change her major from pre-med to English.
A series of chance opportunities brought her to Ruder Ware almost 15 years ago and during her time here, her motivation to solve legal puzzles cemented her place within the firm.  She's driven to figure out how and why things work–as a paralegal assisting with business and estate planning matters, that's crucial.
On the business side, Lynda:
Prepares annual reports and annual meeting reminders for corporations
Forms, maintains, and dissolves business entities
Assists with real estate transfers, drafting of deeds, and transfer returns
For estate planning, Lynda:
Works with personal representatives to navigate the probate court system
Assists in the preparation of real estate documents
Administers the estate from beginning to end
Lynda's other full time job is being the mom of a teenager.  She and her husband focus their vacation time on sharing educational experiences with their daughter with trips to national parks and museums from the Smithsonian museums in Washington D.C. to the National Quilt Museum in Puducah, KY.  Should she have spare time, she's an avid reader of fiction and non-fiction (her weakness is true crime/psychological thrillers).  She loves biking, baking, puzzles, and crafting in addition to knowing her way around the golf course.
Education
B.A. – University of Wisconsin Eau Claire
Certifications
State Bar of Wisconsin Certified Paralegal