Focus Team: Banking & Financial Institutions
Ruder Ware's Banking & Financial Institutions Focus Team provides legal counsel to financial institutions as lenders and to clients as borrowers. Specifically, our attorneys represent commercial lenders and borrowers in single- and multi-lender credit facilities involving traditional bank credit arrangements, letters of credit, leveraged acquisitions, and recapitalization financings.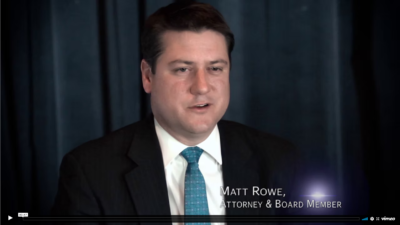 On The Banking Industry
Our attorneys prepare and negotiate a variety of agreements necessary for properly documenting commercial loan transactions, including credit agreements, intercreditor agreements, subordination agreements, participation agreements, promissory notes, security agreements, mortgages, and other collateral documents.
Our lawyers also have substantial experience representing state and national banks, bank holding companies, and other financial institutions in connection with organization, acquisition and divestiture transactions, ownership and corporate governance issues, and regulatory matters. Specific services offered by our banking and financial institutions practice area include:
Negotiating secured and unsecured financing transactions on behalf of lenders and borrowers, including transactions involving syndicate lending and agency relationships
Drafting loan and credit agreements, security agreements, mortgages, and other collateral instruments, notes, intercreditor and subordination agreements, participation agreements, and collateral agency and collateral trust agreements
Representing state and national banks and bank holding companies, as well as other financial institutions, before state and federal bank regulators to obtain regulatory approval for branch bank expansion
Handling bank and bank holding company formations, acquisitions, and sales, as well as bank and bank holding company merger and other change-of-control transactions
Counseling financial institution clients regarding new facility development and related matters requiring regulatory approval
Assisting financial institution clients with developing loan underwriting policies and loan documentation policies to comply with safe and sound banking practices mandated by state and federal bank regulators
Providing legal advice to financial institution clients regarding capital infusion transactions, as well as structuring and implementing shareholder buyouts
Drafting and obtaining regulatory approval for voting trust agreements and shareholder agreements involving financial institutions
Negotiating and documenting bank holding company loans
Providing regulatory interaction with and representation before the Federal Deposit Insurance Corporation, Federal Reserve Board of Governors, Office of the Comptroller of the Currency, and the Wisconsin Department of Financial Institutions
Addressing employment and employee benefit issues affecting financial institutions, including executive employment and noncompete agreements and nonqualified deferred compensation programs
Ruder Ware is an associate member of the Wisconsin Bankers Association.
Posted on June 29, 2022 by Anne E. Flinchum
Now that the COVID-19 pandemic has subsided to some extent, banks and lenders are beginning to resume collections.  Further, as interest rates and inflation continue to rise, it is likely that the number of past due accounts will also rise.  One of the issues with collections are the slew of regulations that come with collections […]
Posted on March 27, 2020 by Jeremy M. Welch
The extent to which COVID-19 will cause financial distress, or even financial ruin, to businesses throughout the State of Wisconsin is yet to be determined.  We do know, however, that there will be many businesses that struggle to maintain sufficient cash to survive the mandatory shutdowns and the loss of revenue resulting from the pandemic. […]
Posted on March 26, 2020 by Joseph M. Mella
These are unprecedented times for all of us.  We continue to receive directives, orders, and suggestions from our local, state and federal governments and their agencies, most of which continue to place additional restrictions on our activities.  In an effort to allow real estate transactions to continue, an effort has been made by the Wisconsin […]
Posted on March 23, 2020 by Ruder Ware Alumni
This morning Governor Evers released a statement notifying citizens that he will be issuing a "safer at home". The impact of this order for individuals and businesses will depend on the wording of the order which is expected to be released tomorrow (Tuesday, March 24th). The governor's initial statement indicates that the order will, similar to […]
Posted on January 29, 2019 by Christopher M. Seelen
The latest federal bankruptcy statistics contain more bad news for Wisconsin's farmers. Chapter 12 farm bankruptcies continue to rise even though overall bankruptcies continue to fall. Although total bankruptcy filings (including Chapter 7, Chapter 11, Chapter 12 and Chapter 13) in the Western District of Wisconsin fell 2.8% in 2018 and have decreased every year […]
Posted on November 5, 2018 by Emilu E.C. Larson
The OCC, the Board of Governors of the Federal Reserve System, and the FDIC published an interagency interim final rule effective August 29, 2018.  The interim final rule amends the regulations governing eligibility for an 18-month on-site examination cycle.  Under the interim final rule, qualifying depository institutions with less than $3 billion in total assets […]
Posted on July 30, 2018 by Ruder Ware Alumni
Many are unaware that the Americans with Disabilities Act ("ADA") applies to websites as well as physical facilities. A review of court dockets around the country shows that plaintiffs are filing an increasing number of lawsuits against companies alleging that their websites are not "accessible" to individuals with disabilities as required by the ADA. In […]
Posted on February 16, 2018 by Amy E. Ebeling
On January 18, 2018, the Board of Governors of the Federal Reserve System, the Federal Deposit Insurance Corporation, and the Office of the Comptroller of the Currency released guidance on the accounting implications of the Tax Cuts & Jobs Act (the "Act") signed into law on December 22, 2017.  The guidance provides information on the […]
Posted on January 26, 2018 by Matthew D. Rowe
Chris Seelen, a member of Ruder Ware's Banking and Financial Institutions Focus Team, recently provided comments on Wisconsin's ag lending market for Wisconsin Public Radio.  The WPR story focused on new federal court data that shows the Western District of Wisconsin had the highest number of farm bankruptcies in the country last year.  
Posted on January 24, 2018 by Christopher M. Seelen
Low grain and milk prices have negatively affected Wisconsin's ag economy for a few years now.  As further evidence of the financial stress on Wisconsin farmers, the national bankruptcy statistics show that, in 2017, more Chapter 12 farm bankruptcy cases were filed in the Western District of Wisconsin than in any other district in the […]
More Insights