July 11, 2022
Ruder Ware is pleased to announce the addition of Wisconsin Rapids-based Attorneys J.P. La Chapelle and Eric Preu to its team.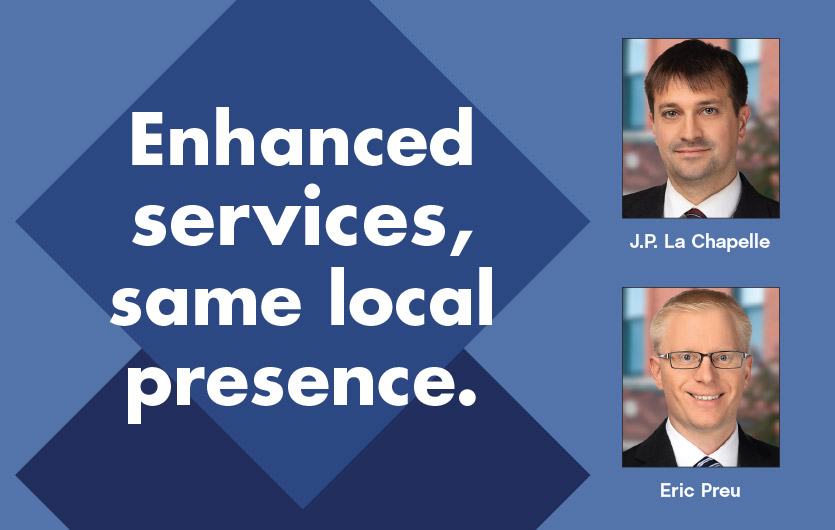 La Chapelle, whose family has deep ties to the area, has practiced in Wisconsin Rapids for more than a decade. "Joining Ruder Ware will allow us to offer a broader range of legal services while still maintaining our local presence in Wisconsin Rapids," said La Chapelle. "We are confident that partnering with Ruder Ware is in the best interest of our clients, and we see a great future for the Wisconsin Rapids community."
Attorneys La Chapelle and Preu have focused their practices on real estate, estate planning, and business law. As part of Ruder Ware, their clients will now have access to a wide variety of additional legal services, including employment law, litigation & dispute resolution, and elder law.
Ruder Ware's President, Matthew Rowe, states, "For more than 100 years, Ruder Ware has focused on collaboration with our clients and their most trusted advisors. Our goal in Wisconsin Rapids is to complement and enhance the existing legal practices of J.P. and Eric. As they join Ruder Ware, we look forward to continuing and expanding their commitment to the Wisconsin Rapids community."
La Chapelle and Preu will continue to serve clients from the Wisconsin Rapids office located at 241 3rd Street South.