402 Graham Avenue
P.O. Box 187
Eau Claire, WI 54702-0187
Phone: 715.834.3425
Toll Free: 800.477.8050
Fax: 715.834.9240
Services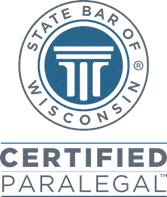 The majority of Paula's career has been spent in a law firm, in fact she's worked at some of the most venerable law firms in the Midwest.
Initially she provided support in the tax and employee benefits area.  By a twist of fate, she began working for a litigator as his legal assistant – that's where Paula felt everything click and fall into place – her love of litigation seeded itself and has grown over 30 years in the legal industry.
At Ruder Ware, Paula provides paralegal support in business litigation by:
Assisting with the preparation of discovery responses
Preparing initial drafts of pleadings
Summarizing deposition transcripts
Assisting with legal research projects
Preparing trial exhibits
Providing paralegal assistance during trials in state and federal court
Preparing foreclosure filings including sheriff's sales, earnings garnishments, supplemental exams.
Paula is responsible for e-filing in Minnesota district courts, Wisconsin circuit courts, Wisconsin appellate and supreme courts, federal district courts, and in the U.S. District Court of Appeals – Seventh Circuit.
An excellent cook, Paula's brownies are reputed to have resolved their fair share of disputes.  She's a proud grandma who works athletic concession stands for both grandsons.  Paula and her husband of more than 30 years love going for long drives.  She's an avid reader, but only of "trashy" romance/mystery novels to escape from everything she reads and proofs at her day job.
Professional Activities
Paralegal Association of Wisconsin, Member