500 N First Street, Suite 8000
P.O. Box 8050
Wausau, WI 54402-8050
Phone: 715.845.4336
Toll Free: 800.477.8050
Fax: 715.845.2718
Services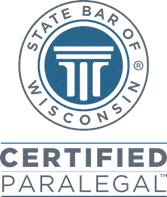 When Amy's parents chose her as personal representative for their estate, she didn't take their decision or the trust they placed in her lightly.  Amy studied the documents until she became familiar with the terms and responsibilities thereby inspiring her paralegal career.  Client responsiveness and resourcefulness are hallmarks of her approach.  At Ruder Ware, Amy assists trustees and personal representatives with:
Valuing and inventorying assets
Obtaining court authorizations when necessary
Responding to beneficiary inquiries
Processing asset transfers
Preparing real estate transfers documents
Assists in preparing Estate Tax returns
Assists in preparing Fiduciary Income Tax returns
As an active mom, Amy spends much of her time teaching her two little girls what it means to be a good and caring person (she tends to believe spare time is a myth).